A frame grabber is a device that captures (or grabs) digital frames from analog or digital video streams directly to a computer. Frame grabbers enable established imaging techniques such as videofluoroscopy, nasendoscopy, stroboscopy and ultrasound to be synchronously viewed alongside multiparameter speech data.
StarTech USB 3.0 Video Capture Device
The StarTech USB 3.0 video capture device records 1080p HD video directly to a computer. With multiple video inputs including HDMI, DVI, VGA and component, the capture card can record images from various video sources. With a frame rate of 60 FPS (frames per second) and H.264 encoding, it is ideal for capturing high-definition video alongside multiparameter speech data.

The example below shows a lateral videofluoroscopic image of the velopharyngeal mechanism, together with nasal and oral airflow traces for the word "cheese". The data was captured using icSpeech Professional Edition software, which is able to synchronously combine video with audio, airflow, voicing and lingual data.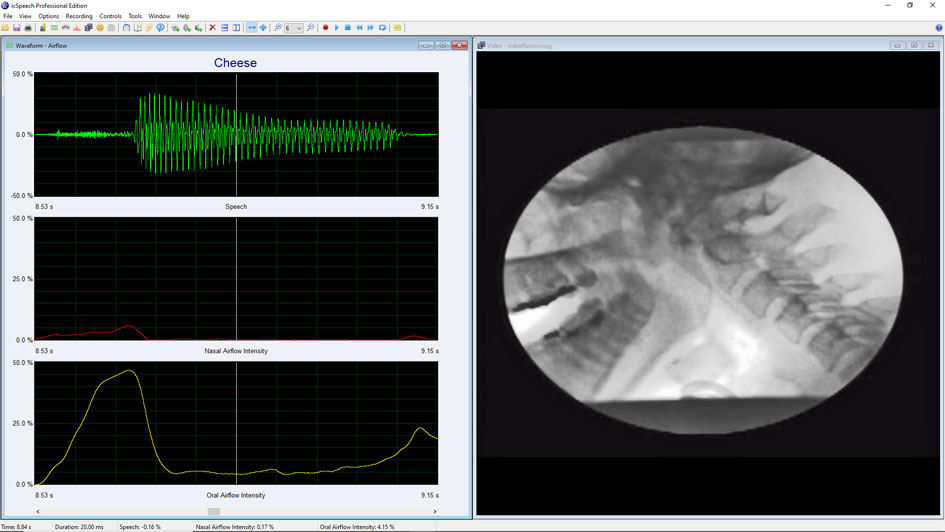 Specification
| | |
| --- | --- |
| Supported operating systems | Windows 10, 8, 7, Vista and XP |
| Supported software | icSpeech Professional Edition |
| Supported standards | NTSC, PAL-M, PAL-60, PAL. Video Encoding: MPEG4/H.264 |
| Maximum analog resolutions | 1920x1080 (1080p/30/50/60) |
| Maximum digital resolutions | 1920x1080 (1080p/30/50/60) |
| Supported resolutions | 1080i/p, 720p, 576i/p, 480i/p |
| Connectivity | USB 3.0 or higher |
| Inputs | HDMI (19 pin) |
| | DVI-I (29 pin) |
| | Stereo Audio (2 x RCA) |
| | Component Video (3 x RCA) |
| | Composite Video (1 x RCA) |
| | VGA (15 pin, High Density D-Sub) |
| | S-Video (4 pin, Mini-DIN) |
Get quote
The frame grabber package includes:
USB 3.0 HD Video Capture Device
A/V breakout cable
DVI to VGA adapter
USB 3.0 cable
Instruction manual
2 Years Warranty