English pronunciation software
Without a good understanding of how to pronounce the individual sounds of a language, it can be difficult to speak words clearly. Pronunciation Coach is an easy-to-use tool that shows you how to pronounce all of the sounds in the English language, and how to combine these sounds to pronounce any word or sentence.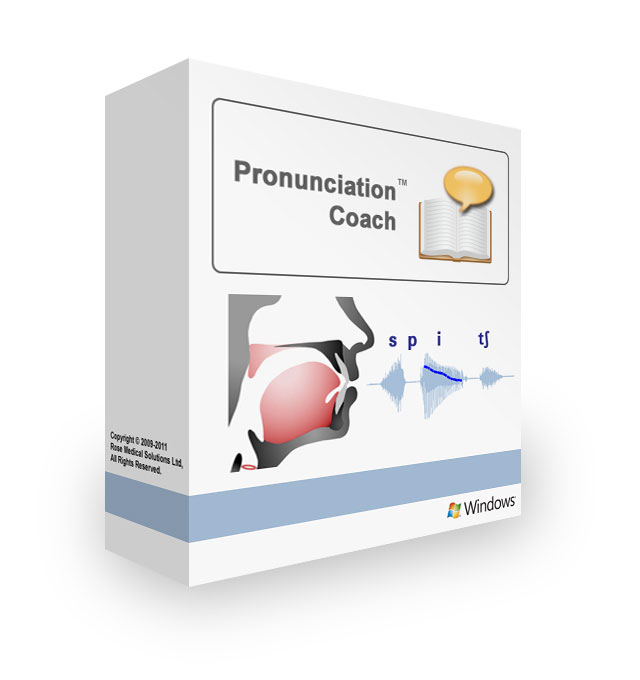 Key features:
Shows you how to pronounce any sound, word or sentence.
Records your speech and lets you compare it to an example.
Provides instant feedback on your speech intelligibility.
Contains a 21,000 word pronunciation dictionary.
Contains a 40 lesson English pronunciation guide.
Pronunciation models
Pronunciation Coach uses the concept of pronunciation models to show you how to accurately pronounce any sound or word. Each model provides an interactive view of the speech production process and consists of the lips, teeth, tongue, soft palate and vocal cords. To create a pronunciation model, simply type in any word or sentence. Once the model has been created, a waveform providing information on timing, pitch and speech intensity is displayed. Use the media controls to play, pause and step through the model one phoneme at a time.
Each pronunciation model contains:
Audio, for listening to the pronunciation.
A video of the mouth and lips.
A video of the speech anatomy.
A video showing tongue contact with the roof of the mouth.
Phonetic symbols, to identify the individual speech sounds.
Waveforms, for viewing timing, pitch and speech intensity (loudness).
Pronunciation dictionary
The Pronunciation Dictionary lets you quickly create pronunciation models from over 21,000 words and sounds. The words and sounds are conveniently arranged in alphabetical, vowel and consonant order, so you can easily locate the words or sounds you want to practise. You can also create custom word lists.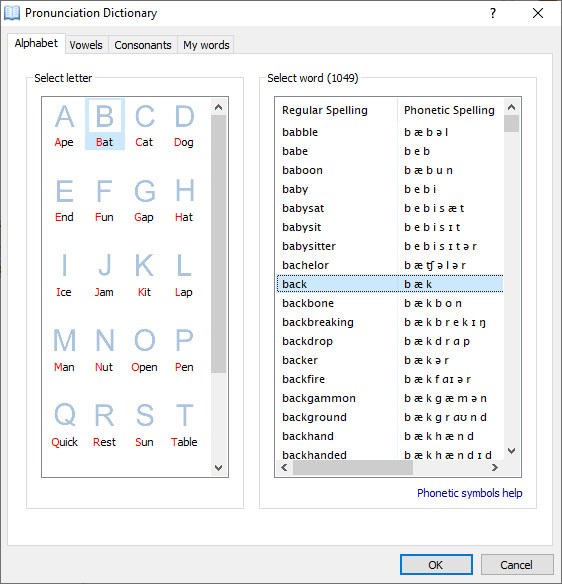 Recording pronunciation
Pronunciation Coach lets you record your speech so you can compare it with the pronunciation model. In addition, speech recognition provides valuable feedback on your speech intelligibility.
Each recording contains:
Audio, for listening to your pronunciation.
A video of your mouth and lips (this option requires a webcam).
Speech recognition result.
Speech intelligibility score.
Waveforms, for viewing your timing, pitch and speech intensity (loudness).
Scoring pronunciation
Once you've learned how to pronounce individual sounds and words, you can use the speech intelligibility scorer to provide valuable feedback on your conversational speech. Speech intelligibility refers to the 'understandability' of speech, and the ability to use speech to communicate effectively in everyday situations. It can be affected by many factors, including pronunciation accuracy, audibility and speaking rate.
To score your speech intelligibility, simply enter any text and read it out loud. As you speak, the recognised words are scored from 0 to 100% and highlighted in green. Any unrecognised words are highlighted in red. Once all of the words have been highlighted, the following results are displayed:
Speech intelligibility (expressed as a percentage).
Audibility (loudness).
Speech rate (number of words spoken per minute).
Number of recognised words.
Number of unrecognised words.
The speech intelligibility scores are categorised as follows:
| Intelligibility description | Intelligibility score |
| --- | --- |
| Unintelligible | 0% |
| Poor | 10% - 30% |
| Fair | 30% - 50% |
| Good | 50% - 75% |
| Excellent | 75% - 100% |
System Requirements
| | |
| --- | --- |
| Supported operating systems | Windows 10, 8, 7 and Vista (requires US English language pack) |
| CPU | x32 and x64 architecture |
| Memory | Minimum 2 GB of RAM |
| Storage | 27 MB of free hard disk space |
| Microphone | USB headset microphone recommended |
| Webcam (optional) | Windows compatible webcam |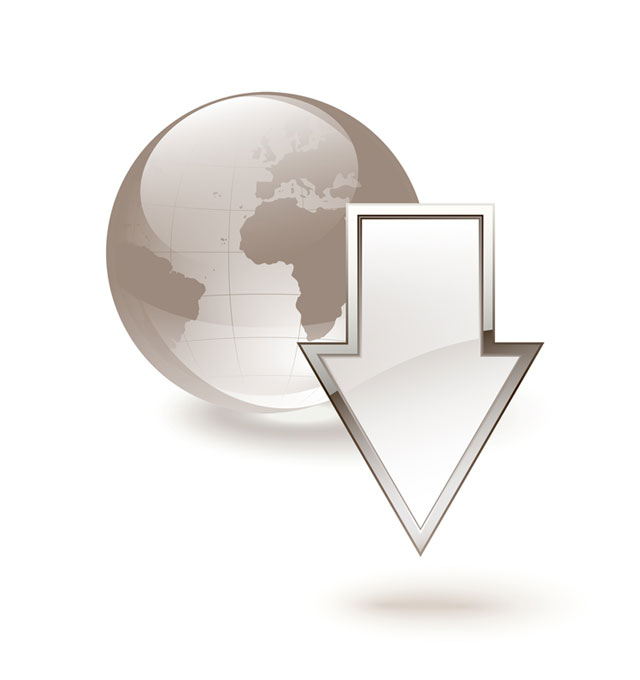 Download free trial
To download a free trial of Pronunciation Coach, simply click on the download button and follow the installation instructions.
For best results, we recommend using a USB headset microphone. See our range of recommended microphones.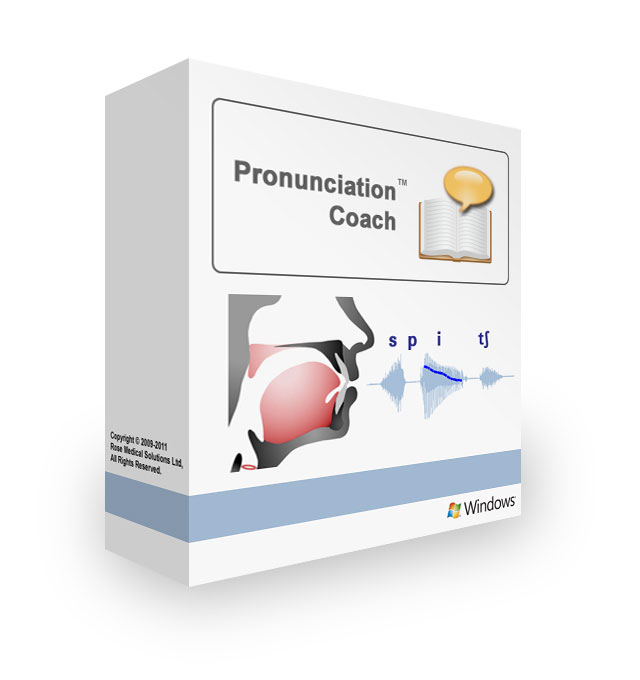 Buy online
On order completion, you will immediately receive:
A secure download link to the latest product version.
A product registration key.
Priority technical support.
Free product updates.
A 30-day money back guarantee.